3D-Coat 是由乌克兰开发的数字雕塑软件,著名的Zbrush大部分功能都是受3D-Coat启发而来。虽然3D-Coat还不能完全取代Zbrush,但是在模型雕刻拓扑、快速材质绘制和渲染输出上,3D-Coat有着压倒性的优势。3D-Coat对照片扫描文件的修复和拓扑更是所有建模软件中最方便的,并且对系统配置要求也低得多。
官方介绍:
对于您需要将您的三维构想通过一大块数字黏土从头至尾制成现成的, 布满纹理的有机模型或硬表面模型所用到的全部工具, 3D-Coat这款应用一应俱全. 现如今世界各地200多所高校和中小学都在教授3D-Coat。
3D -Coat是专为游戏美工设计的软件,它专注于游戏模型的细节设计,集三维模型实时纹理绘制和细节雕刻功能为一身,可以加速细节设计流程,在更短的时间内创造出更多的内容。只需导入一个低精度模型,3D-Coat便可为其自动创建UV,一次性绘制法线贴图、置换贴图、颜色贴图、透明贴图、高光贴图。最大材质输出支持4096*4096做到真正的无缝输出。
实际上,由于3D-Coat这款软件正在不断的更新,上面这段官方的介绍已经相当落后。目前最新的3D-Coat 4系列版本增加了拓扑功能,体积雕塑功能,硬件渲染功能,以及重要的Physically Based Rendering (PBR)特性。
另外需要提到的是,软件的开发者在软件的信息中说他们是虔诚的基督徒,所以请用户不要将软件用于开发淫秽和色情的项目当中。由于软件是可以选择中文界面,所以我们可以很方便的阅读到这些有趣的信息。
软件最重要的还是功能,各种功能直接关系到用户对软件的评价,功能强大,使用简单的软件始终是软件开发者和用户的追求。
3Dcoat在一开始就是支持中文语言的软件,这在三维软件中非常少见。不过翻译速度明显赶不上更新速度,目前中文界面里汉字缺失错误严重,希望有志有能之士能帮助完善翻译。
更新内容:
1.07.20 4.9.52 (stable)
Primitives in Voxels got important improvement – good quality of edges even in low resolution. Edges are smoothed a bit instead of pixelation.

Cutoff with new curves improved, more accurate cutoff.
24.06.20 4.9.51 (stable)
– Undercuts tool got the possibility to make injection molds/ This is a beta feature, present in 4.9 temporary just for testing and preview. 
– Projector tool, see the navigation panel, light icon. The description:
"You may project any texture through the whole scene similar to the projector. This is just for the reference, it does not influence any color or material properties."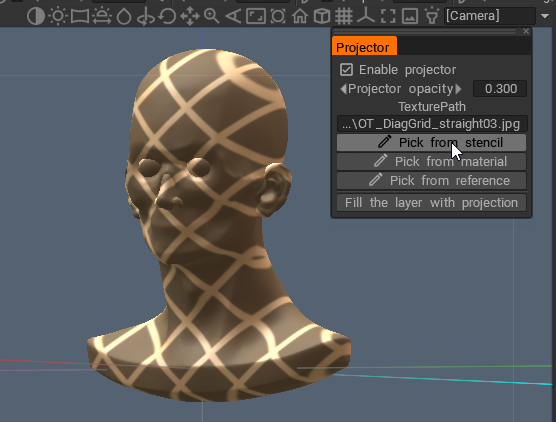 – The activity bar on the top right presented. It shows the current state of mask/material/shader/vertexture etc. This is preview/beta feature, turn on on Prefs/beta if need.

Fixed problem related to the Merge down (empty layer).

Fixed problems related to 3D-lasso + hide.

Fixed crash in scenes that contain references

Fixed complex faces triangulation in paint and retopo room.
– "Smooth All" in voxels got a degree that may be  > 1. So you may repeat smoothing multiple times.
– When the curve tool active the transform gizmo disabled.
View->Show voxels in the paint room stored in settings will be kept between sessions.
– Correct resizing primitives icons.
– Fixed problem when the user assigns a read-only folder as a data path. Now coat checks if the folder is writable. And in case if 3D-Coat not loads it offers what to do.
10.06.20 4.9.49 (stable)
– Unhide with CTRL+lasso problem fixed.
Possibility to turn off hard-coded keys assignment to gizmo (QWER). See the Preferences->Tools.
– Gamma inverted in Textures->Adjust->Gamma for similarity with other applications.
– Cavity/AO baking user settings stored for re-usage later (into XML-s)
– Text-based STL import problem fixed.
– Occlusion dialog got gamma correction control.
7.06.20 4.9.48 (stable)
– Fixed freeze+holes problem.
Fill tool got an important option – limit the expansion by the angle between faces.
– New options in preferences for AO/Curvature layers – calculate default values/ask with dialog/skip calculation.
4.06.20 4.9.47 (stable)
– Gizmos got some "invisible thickness" for ease of capturing.
29.05.20 4.9.46 (beta, close to stable)
– Fixed lag after navigation when Incremental render used in sculpt room. It resulted with better sculpting performance on high-poly meshes (50M+).
– Fixed warp/bend/twist preview. Now it works over selected only.
– Modulate/Modulate 2X handles masking by layer correctly.
– Transform gizmo got possibility to separate (if need) scale, rotate, translation using keys (QWER) or droplist.
25.05.20 4.9.45 (beta, close to stable)
– Different view modes for the retopo mesh – separate options for wireframe, seams, sharp edges, colored islands preview, smooth mesh view.
– Fixed incorrect selection in UV window (slowly mowing gizmo. growing polycount…)
– Activation surface presets will not trigger to voxels to surface if this surface mode supported in voxels.
– Items sorting in Windows->Popups menu.
– Fixed shaders edit problem.
17.05.20 4.9.44 (beta, close to stable)
Preferences rearranged. Export Tab. Units for FBX export, important for the correct scene scale!
– Export dialog essentially streamlined.
12.05.20 4.9.43 (beta, close to stable)
"Factures" renamed to "VerTextures" because it is exactly what factures are – Vertex Texturing
– After baking, we finish at Layer1, not Layer0.
– Possibility to import Quixel materials as VerTextures.
– Baking Curvature improved, the better quality of smoothed part of the curvature.
– Correct refresh of the Color Swatches window.
6.05.20 4.9.42 (beta, close to stable)
– Z-up option restored.
– Much better quality of "Expand/tie off" for patches and tubes for curves modifiers.
– Factures rendering corrected.
27.04.20 4.9.41 (beta, close to stable)
– 3D-printing friendly mode in start thumbnail.
– Catmull-Clark subdivision in retopo room. Two different commands – "Subdivide selected" and "Subdivide whole group". Enable in preferences, Beta tools.
– Edit->Preferences reorganized, Beta section moved to own tab.
– Optional "Factures" room – may be turned ON in Edit->Prefs->Beta
Possibility to set a special folder just for textures in the export dialog.
– Smooth, SHIFT, CTRL+SHIFT smoothing options supported in Voxel mode in the surface section.
Click on Downgrade/Restore will not cache/uncache immediately to avoid unintended action.
– SHIFT and CTRL+SHIFT mechanism changed in Sculpt room to prevent incorrect CTRL+SHIFT action.
– Fixed "Geometry->Weld vertices". Not it does not corrupt meshes even if mesh structure is wrong. It allows to use this command as "mesh healer" if mesh becomes corrupt.
– Speed-up for the "Remove strenching" lag at the end of stroke.
– Fixed brushing in surface mode over transformed volumes.
Correct displacement painting (in paint room) for transformed volumes.
– Previewing (and other visual) problems of Tapering tool solved.
– No pen controls in Primitives/Transform/Bas-relief/Undercuts tools (was distracting and unnecessary)
– Constructor tool UI problems solved (too big icons).
破解步骤说明:
1) 下载并安装
2) 将Crack文件夹里的3DCoatGL64.exe和3DCoatDX64.exe复制到安装目录,默认是在C:\Program Files\3DCoat-V4.9.52
3) 破解完成!
下载地址:
百度网盘下载 提取码:1kze